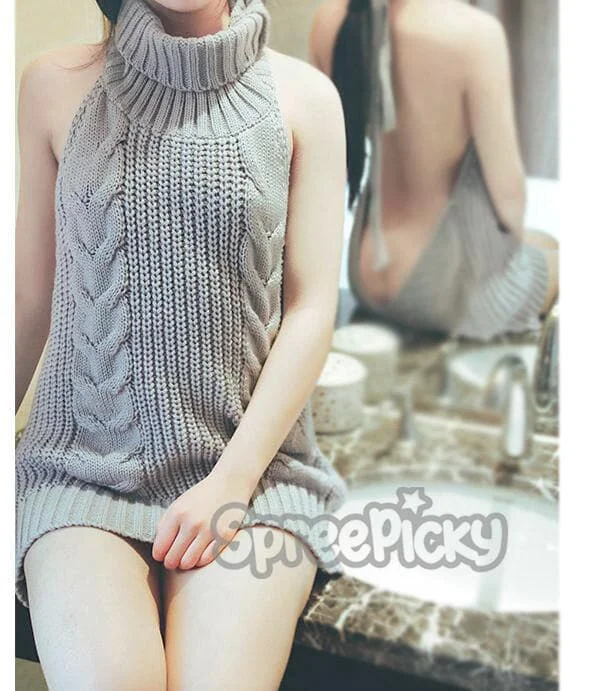 Virgin Killer Sweater
Material: made of knitting 
Color:

Light Blue Backless Sweater

Sky Blue Backless Sweater(sold out)

Grey Backless Sweater 

Black Backless Sweater

White Backless Sweater

Pink Backless Sweater

Purple Pink Backless Sweater (sold out)

Dark Purple Backless Sweater (sold out)

Khaki Backless Sweater (sold out)

Apricot Backless Sweater (sold out)

Red Backless Sweater (sold out)

Coffee Keyhole Sweater (sold out)
Length of the Backless Sweater: 70cm/27.56"
Thanks for the review photo from lovely @hiso.neko @jessicanigri @kushiedameow @annjelife @megan.eli.smith8 on Instagram 
Little Tips For you: 

What is a virgin killer sweater?

A virgin killer sweater is a seductive sweater with an open keyhole back. This sweater has a halter neck and is also known as the 'sweater that kills virgins. ' Its seductive design earned it the Japanese phrase 'doutei wo korosu', which means that it is so sultry it would literally drive a virgin man to death

Why is it called virgin killer sweater?

It has an open back and a halter neckline, so it's not for the faint of heart. It's been dubbed the "virgin killer" since virgins are thought to be unable to resist a woman wearing this enticing garment.

 

Where to buy a virgin killer sweater?

Spreepicky is your No. 1 Best buyer Kawaii Anime Shop!
 Thanks to the virgin killer sweater review video from @jessicanigri, the famous cosplayer 
You might also like Anime Lingerie or Anime Clothing
Thanks for visiting, Just contact us if anything is needed!