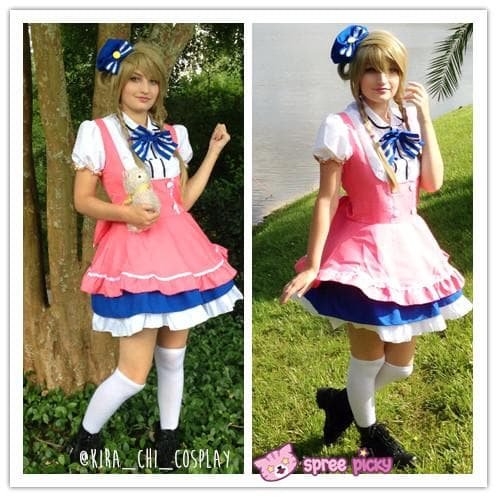 Thanks for the model photos from @kira_chi_cosplay in instagram.
Items include: top + suspender skirt + cap + hair accesories *2 + bow
The skirt inside has hard yarn to keep fluffy, suggest to wear a bloomer for feel softer.
Color: mainly in pink
Material: made of uniform
2 sizes options:
Ready made fix size: Bust: 88cm/34.65" Waist: 76cm/29.86"
It's kind of short skirt, so better wear a petticoat bloomer for safety and good looking too :)
Please read below if you need custom made size:
-Custom making takes about 15-20 days;
-Please make sure to check your email regularly after order;
-Email of size confirmation and shipping date will be sent within 48 hours;
-Your order shipment might be delayed if lack of confirmation.
Custom size please provide below measurements:

All measurements must be your net body size, please do not add it extra.

Your gender: male or female

Your height from foot to head(cm or feet):

Your weight: (kg or lbs):

Your shoulder to shoulder length(inch):

Your Bust wearing bra (inch):

Your Waist(inch):

Your hip(inch):

Your arm girth (inch):

The date you need to get the costume: