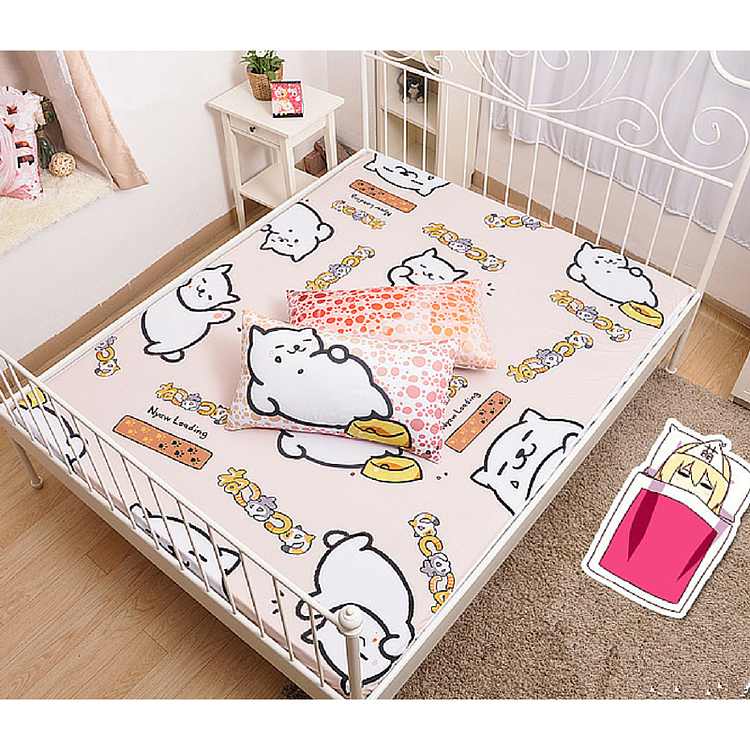 Material:made of QMilch

Color:As picture

Option:

QMilch bed sheet/
QMilch bed sheet+two pillowslips case/
QMilch fitted bed sheet+two pillowslips case/
QMilch fitted bed sheet/
QMilch quilt cover/
lint quilt cover
Default is Queen size, if you want custom made size, please contact customer service :)
| Bed Type | Metric Measurements (cm) | Imperial Measurements |
| --- | --- | --- |
| Single Bed size |  92 cm x 187 cm | 3'0" x 6'2" (36" x 74") |
| Single Extra Long size |  92 cm x 203 cm | 3'0" x 6'8" (36" x 80") |
| King Single size | 106 cm x 203 cm | 3'6" x 6'8" (42" x 80") |
| Double Size | 137 cm x 187 cm | 4'6" x 6'2" (54"x 74") |
| Queen Size | 153 cm x 203 cm | 5'0" x 6'8" (60"x 80") |
| King Size | 183 cm x 203 cm | 6'0" x 6'8" (72" x 80") |
| Super King Size | 203ccm x 203 cm | 6'8" x 6'8" (80" x 80") |
International mattress sizes / bed sizes
|   | US/Canada | UK | Europe | Asia (Thailand) |
| --- | --- | --- | --- | --- |
| Twin/Single size | 39" x 75" | 90cm(W) x 190cm(L) - 3' x 6' 3" | 36" x 75" | 42" x 78" x 22" |
| Double size | 54" × 75" | 135cm(W) x 190cm(L) - 4' 6" x 6' 3" | 54" x 75" | 48" x 78" x 22" |
| Queen size | 60" x 80" |   |   |   |
| Olympic Queen size | 66" x 80" |   |   |   |
| California Queen size | 60" x 84" |   |   |   |
| King size | 76" x 80" | 150cm(W) x 200cm(L) - 5' x 6' 6" | 60" x 78" | 72" × 78" × 22" |
| California King size | 72" x 84" |   |   |   |
| Super King size |   | 180cm(W) x 200cm(L) - 6' x 6' 6" | 72" x 78" |   |
| Twin XL size | 39" x 80" |   |   |   |
| Twin XXL size | 39" x 85" |   |   |   |
| Twin XL size | 39" x 80" |   |   |   |
| Three Quarter size | 39" x 85" | 120cm(W) x 190cm(L) - 4' x 6' 3" |   |   |
| Small Single size | 39" x 80" | 75cm(W) x 190cm(L) - 2' 6" x 6' 3" |   |   |
Australia has seven commonly available mattress sizes. Single bed, Long Single, King Single, Double size, Queen size, King size and Super King size.
Single: Ideal for children and teens. 
Single XL: Ideal for one person when space is at a premium.  Also known as Long Single and Single Extra Long.
King Single: Ideal for growing children, teens and mature single sleepers.
Double: Cosy for two sleepers, roomy for one.
Queen: Ideal for couples and the bed size most commonly sold.King: Becoming more and more popular because of its generous sleep area.
Super King: Not very common as a mattress size, but more popular for bed linen. Created because people often buy a doona and doona cover one size bigger that their bed size.  (For example - Super King linen on a King size bed).
Shipping: Free Shipping Worldwide for order over 15$, 7-15 days delivery to US/UK/CA/AU/FR/DE/IT and most Asia Countries