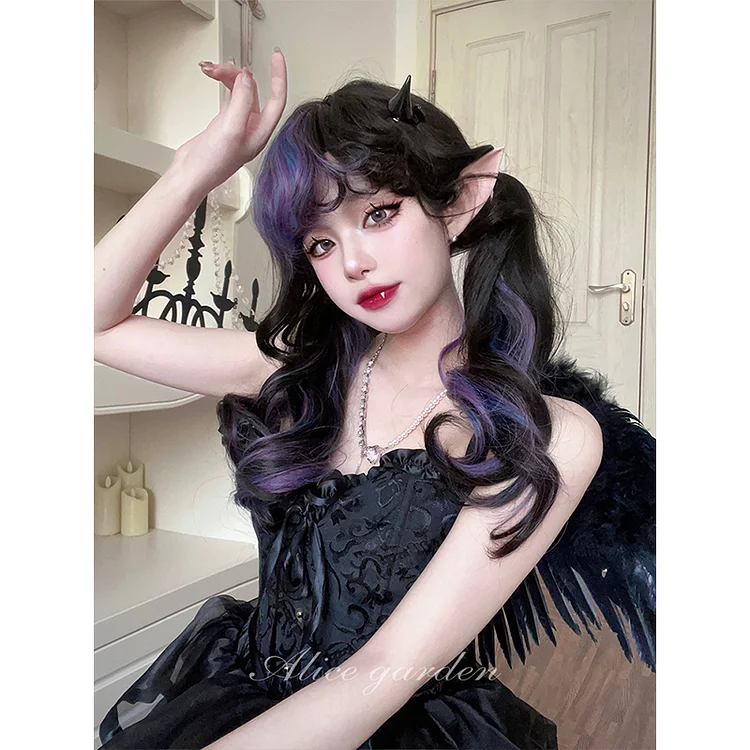 Certainly! Here's a description of the Anna Vampire Purple Black Mix Lolita Wig:🧛‍♀️🖤💜
Edgy and Mysterious Design: 😍🦇 The Anna Vampire Purple Black Mix Lolita Wig features an edgy and mysterious design. It showcases a captivating mix of purple and black colors, creating a striking and darkly alluring look that is perfect for those who want to embrace their inner vampire.

High-Quality Synthetic Fiber: 💇‍♀️💎 This wig is crafted from high-quality synthetic fiber that closely resembles the texture and appearance of natural hair. It is soft, smooth, and easy to style, allowing you to create a variety of gothic-inspired hairstyles with ease.

Comfortable Fit: 🌟🧢 The wig is designed to provide a comfortable fit. It has an adjustable strap that ensures a secure and snug fit, so you can wear it for extended periods without any discomfort or worry.

Versatile Styling Options: 💁‍♀️✨ Whether you want to channel the elegance of a Victorian vampire, the mystique of a gothic Lolita, or simply add a touch of darkness to your everyday style, this wig offers versatile styling options to suit your individual taste.

Easy to Maintain: 🧼🌸 Maintaining this wig is effortless. It is resistant to tangling and can be easily washed and styled as desired. This allows you to keep the wig looking fresh and vibrant for repeated use.